We're over a month into our homeschool adventure and thought I would share the rhythm we've settled into and what we're doing!
Monday to Friday:
Morning:
Bible/Devotional/Prayer/Scripture memory/Singing/Calendar
Table work: Handwriting/Math/Phonics
Afternoon:
We choose different subjects and activities depending on the day/weather. Our usual pursuits to choose from are: outdoors/geography/music/art/poetry/visiting friends/field trips.
And of course, lots and lots of playtime, read alouds, and real life sprinkled throughout all this!
On Wednesday Liam spends a full day at a private Christian school as part of their homeschool extension program.
What we're using:
Morning Time @Breakfast Table

ESV Illustrated Family Bible
Leading Little Ones to God by Marion Schooland
Everything a Child Should Know About God by Kenneth Taylor
For scripture memory, we work on Liam's verse for bible club on Friday nights. Next year we plan to implement the Charlotte Mason scripture memory system
Phonics:
Hooked on Phonics Levels 3/4
Handwriting:
Handwriting Without Tears: Letters and Numbers For Me
Math:
Math U See Primer
Geography:
Focus: Canada + United States
MAPS Book by by Aleksandra Mizielinska and Daniel Mizielinski
Lots of read-alouds. This year we are focusing on learning all about Canada and locating provinces. Next year we plan to use Beautiful Feet Book's Around the World With Picture Books
Science/Nature: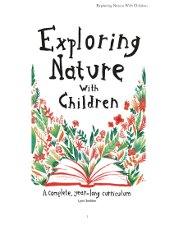 Exploring Nature With Children by Lynn Seddon
History:
Begin a simple book of centuries to jot down historical events from readings. For Grade 1 we plan to start Susan Wise Bauer's Story of the World Book 1.
Read Alouds
We love Sarah MacKenzie's monthly picture book lists available here. They are themed and relate to holidays and seasonal activities. Great choices!
We have also begun to work through chapter book read alouds with Liam at bedtime. This fall we are reading Little House in the Big Woods and he is hooked!